This is not something I do a lot on here, as to be perfectly honest, i'm a complete beauty novice. But seen as it's deadline week at uni for both me and my boyfriend (the uni photographer) and i'm away from my sister (home photographer) I thought it was the perfect time to answer some of the questions i've been getting about the slap on my face.
Please excuse me though, as, as I said i'm a novice and have no clue when it comes to make up, I know what I like and basically I have a lot of different products, by different brands that all do the same thing, in the same colour…how very safe boring of me…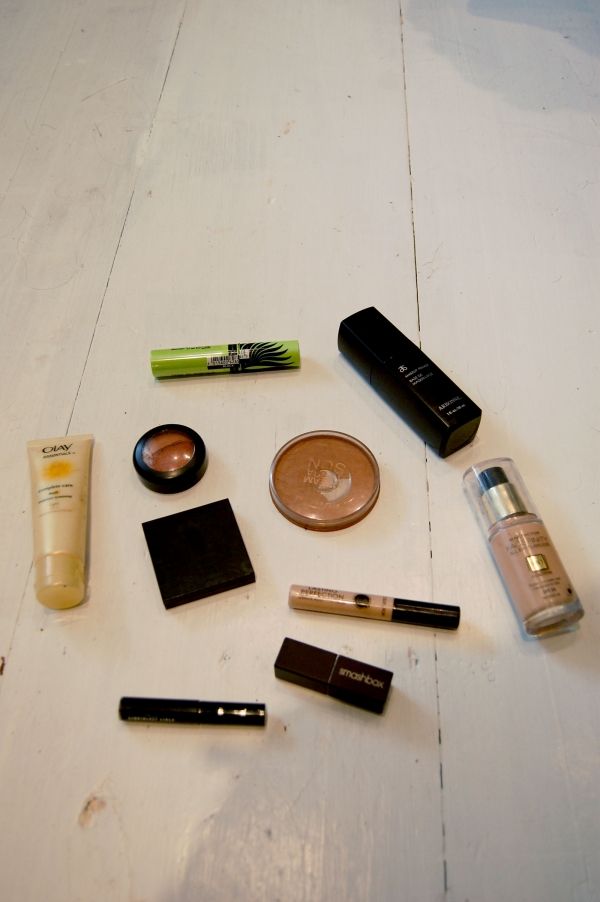 So, as you can see above, not the most inventive of products, a classic long lasting foundation by Max Factor, a simple tinted moisturiser by Olay and a bronzer by Rimmel. But within my beauty regime there are a few cheeky little suprises which I think make all the difference.
-With my eyes, I stay neutral with bronze then apply my all time favourite make up piece EVER and that is Mac's Liquid Last Eye Liner. I seriously cannot rave about it enough, just try it, the blackest of blacks with full coverage for a whole 2 days; yes it is an absolute pain to get off, but it's definitely worth it!
-My concealer, by Collection 2000, in theory, is probably not the best brand to put on your face, but I swear to you it works like magic, this product is completely magical for hiding any of your face hangups such as dark circles and blemishes, all day long, and at only £4.19 it's an absolute god send!
-And now for my primer by Arbonne, a beautifully light primer that allows long lasting coverage, with it's Swiss formula, not a single chemical, paraben or mineral oil in sight, and boy can you tell. I swear by this primer and really recommend you check Arbonne out, each of their products I have used have been fantastic (especially the shampoo), with an even better price tag! Just visit www.arbonneinternational.co.uk and enter pin 41100101 for more information.
-And finally my go to every day lippy by Smashbox, in shade Truffle and the perfect every day nude shade, it's quite a satin lipstick so ensures my lips are perfectly hydrated throughout the day.
So thats me, on an every day basis, thanks to my hero pieces by Smashbox, Arbonne, Collection 2000 and Mac, Stay tuned for my lipstick post in the next few weeks.
x M