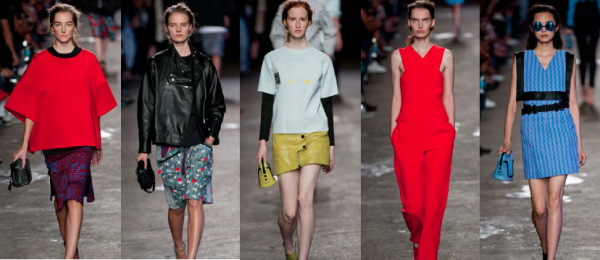 Opening Ceremony
Season after season Opening Ceremony seem to have me lusting for the future months, this season is definitely no exception.
With bold and brash primary colours filling the runway with vivid prints, exaggerated silhouettes and layering, it is summer but not as we know it. Gone are pastels, soft lines and florals and in come tomato reds, cobalt blues contrasted with blacks and sharp chevrons.
Helmut Lang
When viewing Helmut Lang's collection for S/S14 the words sharp, crisp and pure spring to mind, all of this with Lang's edgy yet minamilst twist.
Monochrome organza creates the basis of the collection with colour pops of raspberry thrown in for good measure.
Oversized leather and slouchy over coats pay homage to the brands minimalist and layered style.
Victoria Beckham
VB has done it again with another kick ass collection. If i'm completely honest it isn't ground breaking, it does remind me of Zara's shop floor in it's entirety, but beautiful all the same.
Layered peplums, suggary pinks and deep wines make the basis of the collection with geometric triangular shapes and a whole lotta boy meets girl .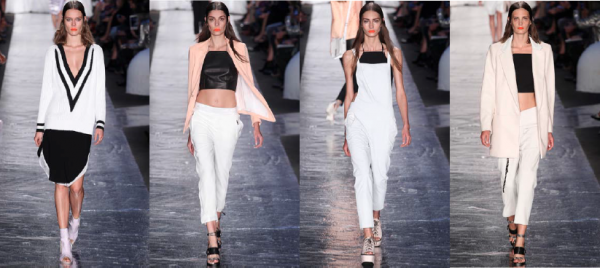 Rag & Bone
Summer circa 97 with muted tones of white, peach and nudes all rolled together with a large helping of black. Simple nineties cami's and overalls teamed with oversized tailoring and leather all topped off with a orange lip and your Spring Summer 14 to a tee.
Philip Lim 3.1
Olive green and navy blue, two of my favourite shades, teamed with a soft lavender and crisp white and Philip my friend, you are on to a winner.
Channeling "oil spills" with his iridescent, cracked leather's and crystallized prints, again this is Spring but not as we know it. Tailoring is key once again within Lim's collection and that boy meets girl look is all tpo prevalent.
Who were your New York fashion week faves? And fashion week flops? Do tell…
x M